new year's book resolutions
So indie author superstar Lauryn April (who by the way gave an interview to this blog – yay!) tagged me with New Year's Resolution Book Tag and why not, so here it is…
An author you'd like to read (that you've never read before)
Margaret Atwood. (I tried several times before but the timing was never right.)


A book you'd like to read
Well... I currently have just over 500 books in my To-Be-Read folder on GoodReads and am currently reading 8 books at once. But if I'm to set my priorities and pick, say, three books I'd definitely like to read in 2017, those would be: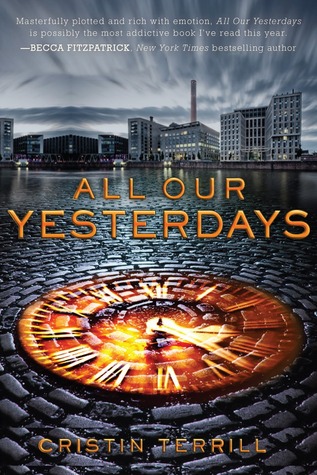 All Our Yesterdays by Cristin Terrill (It's been sitting in my TBR folder for a while now. It's time)
Burn (the 4th book in The Rephaim series) by my fellow Australian YA author, Paula Weston
A classic you'd like to read
Does Kurt Vonnegut qualify as a classic today? I've read Breakfast of Champions in 2014 and I *think* I've read several of his most important books in my teen years, but sadly my memory of that is patchy. So let's say, I'd like to start with Slaugtherhouse-Five.
A book you'd like to re-read
I remember reading Vadim Shefner when I was a teen and I would love to re-read The Unman and his other novels (Shefner's style is this existential/young adult/SF/dystopian/humorous indescribable mix) but only if I find it in the original Russian anywhere or dig it up in my parents' home when I visit next. Though I do worry that reading Shefner now will be so different from my first experience that it'll erase all of the romantic/nostalgic memories from my teenage years, so maybe I shouldn't do it. Will see…(I've blogged about Shefner's influence on me and my writing in 2014'post Five Books That Changed Me & There's No Way Back)
A book you've had for ages and want to read
Cloud Atlas!
I first bought it and started reading in 2013, shortly after watching the move based on it. I loved the movie so much that I got absolutely determined that I must read (and love) the book too. But this book, it's so d i f f i c u l t to engage with (also this super-small font used in the edition that I own doesn't help the situation)… I do really hope that I'll find my drive and finish it in 2017…


A big book you'd like to read
I want to go back into Isobel Carmody's Obernewtyn Chronicles that I abandoned for no good reason a couple of years ago. And since the books in this series have gotten chunkier and chunkier each time, I believe this qualifies as an answer here. So, the one I'll be reading is The Keeping Place, which is the fourth in the series, with quite a few more to go to the grand finale.

An author you've previously read and want to read more of
That's a tough one! Have a look at my list of influences – any author on my inspiration list qualifies, but if I have to pick one, Kali Wallace comes to mind. I've read Shallow Graves in 2016 and it stroke some kind of important note with me, so I've been keeping an eye out for Kali Wallace's next publication which appears to be City of Islands slotted for a 2018 release. The one sentence description of this book reads:
In an archipelago of peculiar islands, a diving girl discovers bones on the ocean floor from creatures - and magic - that should not exist.
Please sign me up!

A book you got for Christmas and would like to read
No books got given to me for Christmas, alas, but I did recently buy Stephanie Scott's Alterations (which is a Sabrina retelling, apparently) and Jewel E. Ann's Scarlet Stone because it sounded like something SO MUCH outside my to-go genres that I was totally up for that. (I'm in a bit of a book slump at the moment, despite having read some real great books in 2016… so I'm getting myself out of the said slump by reading widely and keeping an open mind…)
A series you want to read (start and finish)
If it's a completely new series I've never tried before, I'll say The Sweet Evil series by Wendy Higgins, but possibly because I've just recently seen it mentioned on Lauryn April's blog. Though I did have it on my TBR folder for ages…

A series you want to finish (that you've already started)
Hex Hall by Rachel Hawkins. I'm 2 out of 3, but my local library for whatever reason hasn't acquired this trilogy's finale, hence my delay. I loved, l o v e d, LOVED the first two Hex Hall books – they're everything a great paranormal YA should be! Though, now I'll probably be re-reading the first two books before moving on to the series finale.
The Girl at Midnight by Mellisa Grey. I've read the first one in this trilogy and am intrigued enough to go for one more. Also, the protagonist's name is Echo and she lives in a hidden room in a library, so YES, PLEASE!
The Bone Season by Samantha Shannon. The first one in the series, Samantha Shannon's eponymous Bone Season debut blew my mind. It's SO GOOD, you guys - GO, READ IT NOW, PLEASE! Then came book 2, The Mime Order and when I finally got my hands on it (from the library), it coincided with many other reading deadlines I had, somehow this book got pushed back to the periphery of my attention and then I had to return it to the library, so… I'm keen to try again, once I get through my current reads. And now the third book in the series, The Song Rising is out, so I'm going to have myself a little Bone Season reading party pretty soon…

Do you set reading goals? If so, how many books do you want to read in 2017?
Yes and No. In 2016 I've set a reading goal for 100 books, but only read 60 so I thought, you know what, I'm not going to set any reading challenges or goals for myself this year, because who cares... I know I read lots of books anyway, so.
That's it for me in regards to my New Year's Book Resolutions. Thanks, Lauryn April, for tagging me. I'm looking forward to reading Lauryn's Unearthed After Sunset when it's out in 2017.
Oh, and if you want to be tagged with this challenge, just drop me a line in the comments, via Twitter, Facebook or GoodReads